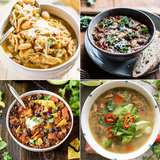 Winter cuisine can be a struggle for those of us who are trying to get a head start on our New Year's resolutions-to-be. And while we love the comfort and spice from a bowl of great chili, it doesn't exactly scream diet-friendly.
But just because chili is hearty doesn't mean it has to be unhealthy; there are plenty of ways to cut the calories without cutting the flavor profile. In fact, many of the main components, including meat, beans, and chilis, are not inherently fattening and can in fact work well into a resolution-worthy meal rotation. It's the toppings – just a few scoops of sour cream and a handful of shredded cheese – that push chili into the trouble zone for calories and fat.
These healthy chili recipes prove that dieting – or simply just trying to stay healthy – isn't only possible during the wintertime, it's delicious.
Source: Pop Sugar