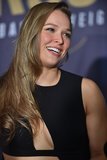 Despite her recent devastating defeat against Holly Holm that tainted her 12-0 streak, UFC powerhouse Ronda Rousey still had an incredible year worth recognizing. Not only did she add a few noteworthy titles and skills under her championship belts, but she showed the world exactly why those recognitions are hers. Aside from her obvious amazing athletic prowess, what's most intriguing about Ronda is her ability to penetrate the mainstream – a sad rarity amongst female athletes. Both men and women alike – even those who may not even follow the UFC – have become captivated by not only the athlete, but the story behind her.
"She shares her hardships, she shares her difficulties. She shares in a way that truly makes her human, in a way that makes you like the person underneath the fighter," said Senior Vice President and founder of espnW Laura Gentile. "I think her number one gift is that she's comfortable with who she is – she's very comfortable with speaking her mind. It might be hard to get behind a fighter, but it's certainly not hard to root for Ronda."
And while some may consider her cocky, with Ronda's string of accomplishments, who's to say a little boost of confidence isn't well-deserved? There's a reason she became a household name, and even with a loss, her talent and reach has not been diminished.
"She's earned her right as a world-class athlete . . . she's in a very tough sport, and everybody's gunning for her," Laura said. "She's done a wonderful job of transcending her specific sport, which first of all wasn't even open to women and now she's the biggest headliner in the whole sport."
Recently nominated as "Breakthrough UFC Star" on espnW's 2015 IMPACT25 list, Ronda has been recognized as one of the most influential forces in women's sports alongside Serena Williams, Carli Lloyd, and Misty Copeland. Clearly, her fight against Holly hasn't taken away from her achievements. Here's 11 more reasons that prove why 2015 was "Rowdy" Ronda's year.
Source: Pop Sugar