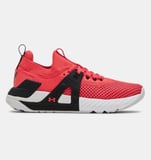 As the calendar flips to a new year, many of us are thinking about fresh starts and new beginnings. One area that often tops our list for resolutions is fitness, and having the right gear can make all the difference in helping us meet our goals. However, with a vast array of fitness products on the market (and more being introduced daily), it can be overwhelming to figure out what gear is best for you and your unique workout needs. That's why we've done the legwork for you and compiled a must-have list of over 20 pieces of fitness gear.
This list includes a variety of equipment, apparel, accessories, and more, all of which have been hand-selected by our expert editors as the best options to supplement your workout needs. Whether you're just starting out on your fitness journey or have been active for years, these items will help you get the most out of your workouts, fit your space, and evolve with you as you progress.
From yoga mats to jump ropes, weights, leggings, and everything in between, this catalog has something for every type of workout. Plus, with various price points and brands, you can find the perfect gear to fit your budget and style.
So if you're looking to up your fitness game in 2023, be sure to check out our must-have list of fitness gear. With these editor-approved products at your disposal, you'll be well-equipped to tackle your workout goals and start the new year off on the right foot.
– Additional reporting by Angelica Wilson
Source: Pop Sugar