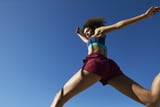 All those sweatpants you ordered in March got plenty of good use as you worked, worked out, and lounged from home all spring – but summer calls for some cooler substitutes.
Cue the epitome of warm-weather comfort: sweat shorts.
As you move your daily yoga flows to the backyard, increase your walks around the block, or add sun snoozes into your self-care routine, these airy shorts will help you chill out without overheating.
Source: Pop Sugar