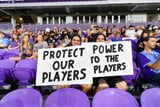 Over the past two years, allegations of rampant abuse and misconduct have dominated headlines across the National Women's Soccer League (NWSL). The issues were first revealed to the public in a September 2021 article from the Athletic. The piece focused on former Portland Thorns head coach Paul Riley, who had continued to find work in the league – most recently, as head coach for the North Carolina Courage – after being accused of verbal and sexual abuse. The Athletic's article set off a wave of protests from players who were outraged by the "institutional betrayal" of their own league. But just over a year later, it became clear that The Athletic's article only scratched the surface.
On Oct. 3, 2022, the true extent of the issue was revealed following the release of an investigation commissioned by US Soccer and led by Sally Q. Yates, the former deputy attorney general for President Barack Obama. Along with Riley, coaches Christy Holly (formerly of Racing Louisville FC) and Rory Dames (formerly of the Chicago Red Stars) were also found to have abused players on their pro teams. In Dames's case, he also created a "sexualized environment" at the youth club he coached at the same time. The investigation also confirmed claims that multiple NWSL and US Soccer officials repeatedly failed to protect players from harassment and abuse. And there may be more revelations ahead, as a separate investigation from the NWSL and NWSL Players' Association (NWSLPA) is forthcoming.
As this story continues to develop, keep reading for a complete timeline of everything we know so far.
– Additional reporting by Maggie Ryan
Source: Pop Sugar