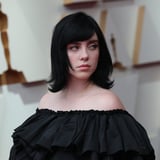 The internet may be buzzing about her new romantic relationship, but Billie Eilish wants to talk about the one with herself. In conversation with Vogue for the magazine's January 2023 cover story, the 21-year-old "Happier Than Ever" singer opened up about her connection with her body and how it's changed over the years.
"Going through my teenage years of hating myself and all that stupid sh*t . . . a lot of it came from my anger toward my body, and how mad I was at how much pain it's caused me, and how much I've lost because of things that happened to it," she said, referencing chronic illness and past injuries she's experienced, which impacted her dance aspirations.
Eilish has previously spoken about being diagnosed with Tourette syndrome at 11. She told Vogue she later had a growth plate injury in her hip at 13, as well as other lower-body injuries in subsequent years. After many misdiagnoses, Eilish was finally diagnosed with hypermobility by her movement coach, Kristina Cañizares.
Amid chronic pain, Eilish said music became her primary outlet. "I got injured right after we made 'Ocean Eyes' . . . so, music kind of replaced dancing," Eilish said, referring to the 2015 single that put her on the map. "I felt like my body was gaslighting me for years," she added. "I had to go through a process of being like, My body is actually me. And it's not out to get me."
Source: Pop Sugar