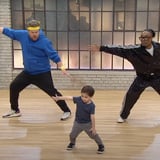 Anyone who's ever kept up with a toddler knows it's not for the faint of heart. Billy Porter and James Corden learned as much partaking in a new fitness "trend": toddlerography. In a "Late Late Show" segment on Jan. 24, the two stars took dance lessons from quite the creative children as they danced their hearts out to "As It Was" by Harry Styles. But despite Corden's cautioning, nothing could've prepared them for some of the more imaginative dance moves.
"Look, real quick – I know that you know your way around a dance number, but I've got to warn you, this class is brutal," the late-night host told Porter as they warmed up in the dance studio. "It's not you, it's the instructors. They are fierce, they are ruthless," Corden added, advising Porter not to look any of them directly in the eye. Almost a dozen more tiny teachers followed suit, taking turns teaching the adults, who diligently copied the choreography to the best of their abilities, falling, spinning, and crawling on the floor with an impressive fervor.
Though they ultimately did their best to match the pace of the little ones, the energy of the toddlers was unbeatable. "Ooh, that was intense," Porter exclaimed at the end, sitting down with Corden and cooling off with juice boxes. Watch the full video above and see what might just be the most challenging (albeit adorable) workout challenge yet.
Source: Pop Sugar