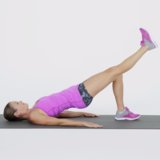 Your leggings and skinny jeans are psyched. You know why? Because you just did this three-minute butt workout, that's why. You can give yourself a pat on the back, and someone just might give you a pat on the tush when they notice you've been spending a little extra time on your backside. For even bigger butt burn, repeat these exercises two or three times.
Bridge With Leg Lift
Do 20 seconds with the right leg lifted, then pulse for 10 seconds. Repeat with the left leg lifted.
Sumo Squat Heel Clicks
Repeat this move for one minute, being sure to lower the hips and press weight back in the heels as you squat down.
Knee Circles
Complete 15 seconds circling the knee forward, then another 15 circling backward. Repeat on the left side for another 30 seconds.
Source: Pop Sugar