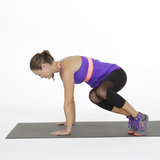 Torch calories while toning your abs and arms with the bunny hop. Yeah, the name sounds cute, but this exercise is killer. We love adding a bit of cardio to the basic plank, and we also love how this move makes our abs and arms burn in the best way possible.
Begin in a plank position with the feet together.
Pull your abs in, and jump your feet to the right, bringing your knees toward your right elbow. Your torso will twist to the right.
Jump your feet back to plank to complete one rep.
Repeat on the other side, and continue alternating sides for 20 reps total.
Source: Pop Sugar