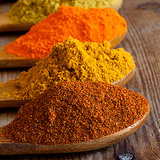 If you choose wisely, the spices you cook with can boost your metabolism and help your body burn more fat, like the four we've rounded up here: ginger, cinnamon, cayenne, and turmeric. If you're not sure how to cook with these, here are two tasty recipes for each spice.
The Spice: Ginger
High in antioxidants, ginger offers big health benefits. Dr. Oz says that ginger can increase your metabolism by about 20 percent for three hours! This is namely because of ginger's gingerols and capsaicin, two compounds known to boost metabolic rates.
Taste This: Ginger-Carrot Soup
A bowl of this detoxifying ginger-carrot soup is high in vitamin A, vitamin C, and manganese, which aids digestion.
Taste This: Orange-Ginger Smoothie
Source: JuicyNoelle
Fire up your metabolism with a sweet smoothie that makes use of a piece of fresh ginger. This orange-ginger smoothie is perfect for a day when you're feeling under the weather.
The Spice: Cinnamon
Cinnamon is one of those warming spices that makes every cool-weather recipe a little more delicious – and healthier, too! Cinnamon boosts your metabolism, aids in digestion, and can even help regulate blood sugar levels for people with type 2 diabetes.
Taste This: Cinnamon-Spiced Chickpeas
Source: Jenny Sugar
Boost your energy levels and metabolism with this treat: cinnamon-spiced chickpeas. Once roasted, chickpeas offer a satisfying crunch, and this creative spice blend makes it a tasty, low-calorie sweet snack.
Taste This: Cinnamon and Green Tea Smoothie
Source: Leta Shy
Not only will the caffeine in the green tea smoothie give you much-needed energy, but cinnamon and green tea have both been shown to have metabolism-boosting properties.
The Spice: Cayenne
Pungent, spicy cayenne is a staple of Chinese and Ayurvedic medicine that's known to kick up your body's temperature and boost your metabolism. An added bonus is that the capsaicin content in cayenne helps your brain release endorphins. Cayenne can come on a little strong, so add slowly to your dish to make sure you can handle the heat.
Taste This: Apple-Cabbage Salad With Creamy Dressing
A one-note dressing can get a huge healthy kick with some help from cayenne pepper. Just 1/8 of a teaspoon brings a vibrant flavor and metabolism-boosting powers to the creamy Greek yogurt dressing in this Fall detox salad.
Taste This: Spicy-Sweet Potato Burgers
Source: Jenny Sugar
Bring some healthy spice to your new favorite veggie burger. This seasonal sweet-potato burger that brings cayenne to the mix can be baked in the oven, so you don't have to worry about heating up the grill in the cold!
The Spice: Turmeric
Known to provide a depth of flavor to curry dishes, turmeric is a spice that contains curcumin, an active component with anti-inflammatory benefits and rich in antioxidants. In an animal study performed at Tufts University, researchers found that the curcumin found in turmeric appears to "reduce weight gain in mice and suppress the growth of fat tissue." While adequate studies haven't been performed on humans, even Dr. Weil believes that the results are promising!
Taste This: Thai-Spiced Hummus
Healthy spices like turmeric and curry help make this fiber-rich coconut curry hummus the perfect combination of tangy and spicy.
Taste This: Turmeric-Spiced Tomato Soup
Source: CheesePlease
Kick up the good-for-you nature and flavor of classic tomato soup in this curried tomato soup that brings turmeric, ginger, and cinnamon to your table – three spices known to boost your metabolism!
Source: Pop Sugar