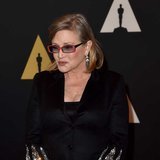 It's been nearly 40 years since Carrie Fisher starred in the first Star Wars movie as Princess Leia, but the industry sadly hasn't changed one bit when it comes to appearance. For the newest installment, Star Wars: The Force Awakens (out Dec. 18), Carrie revealed to Good Housekeeping UK that "she was pressured to lose more than 35" pounds. "'They don't want to hire all of me – only about three-quarters! Nothing changes: it's an appearance-driven thing. I'm in a business where the only thing that matters is weight and appearance. That is so messed up. They might as well say, "Get younger," because that's how easy it is,'" she said.
The GH January cover girl didn't hold back when discussing her weight-loss methods, either. "'I did it the same way everybody has to – don't eat and exercise more! There is no other way to do it. I have a harder time eating properly than I do exercising. It's easier for me to add an activity than to deny myself something. And when I do lose the weight, I don't like that it makes me feel good about myself. It's not who I am,'" Carrie revealed.
Carrie, who was 20 years old in the original film, criticized Hollywood for its never-ending obsession with beauty. The now-59-year-old actress and writer continues to experience issues with the industry: "'We treat beauty like an accomplishment, and that is insane. Everyone in LA says, "Oh you look good," and you listen for them to say you've lost weight. It's never, "How are you?" or, "You seem happy!"'"
Although it's no surprise that Carrie wasn't immune to Hollywood pressures, even this time around, we appreciate her for telling it like it is. It seems like the Force will always be strong with this Star Wars veteran.
Source: Pop Sugar