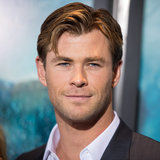 In case you missed it, Chris Hemsworth recently shared a photo of his startling appearance while filming In the Heart of the Sea (see below). In order to play a 19th-century sailor, the actor lost an extreme 33 pounds in four weeks by subsisting on 500 calories a day.
While the actor is back to looking like his usual self, he recently admitted that he was not the most pleasant person to deal with while on his extreme diet. At the film's New York City premiere, Hemsworth told People his wife, Elsa Pataky, was an innocent bystander to his low-blood-sugar, hangry moments. He said, "She had to put up with my moods unfortunately. She's great. I'd kind of done it before in Rush but not to this extreme. By the end of it she was happy for me to start eating again."
Since Hemsworth had been living on such an unsustainable diet, he was naturally hangry and overindulged a little once the film was done shooting. "We went to an Italian restaurant and had all sorts of pasta and pizza and all the wrong things." He added, "It gave me a bit of a food hangover to honest with you. I hadn't eaten anything like that for a while." But really, a food hangover is the best kind of hangover.
Related:
Source: Pop Sugar