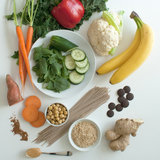 Breakfast: Two Muffins and Steamed "Milk"
Note: Make a batch of banana smoothie muffins and eat two muffins with 1 cup unsweetened almond milk heated with 1 teaspoon honey and a pinch of cinnamon for breakfast.
Set aside two muffins for the snack on day two and breakfast on day four, then freeze the rest.
From Jenny Sugar, POPSUGAR Fitness
Banana Smoothie Muffins
Ingredients
3 ripe bananas

2 cups packed baby spinach

8 strawberries

1 1/2 cups whole wheat flour

3/4 cup sugar

1 egg

1/4 cup canola oil

1 teaspoon baking soda

1 teaspoon cinnamon

1/8 teaspoon salt
Directions
Preheat the oven to 350°F.
Puree the bananas, spinach, and strawberries in a blender.
In a medium-size bowl, combine the flour, sugar, egg, oil, baking soda, cinnamon, and salt.
Pour the smoothie mixture into the bowl and mix well.
Put paper or silicone muffin cups in a muffin pan (you'll need two pans for 14 muffins).
Spoon in the batter, filling each cup about three quarters full.
Bake for 20 to 30 minutes or until a toothpick inserted comes out clean.
Allow the muffins to cool on a rack, and enjoy!
Makes 14 muffins. Here's the nutritional information for one muffin.
Source: Calorie Count
Information
Category

Breads, Desserts

Yield

14 muffins

Cook Time

45 mins
Nutrition
Calories per serving

155
Lunch: Soba Noodle Salad
Note: Eat one serving; refrigerate one serving for lunch on day four.
Dinner: Coconut Curry and Chopped Kale Salad
Notes: Save 1/2 cup of chopped cauliflower for lunch on day seven. Eat one serving of curry with a side salad. Refrigerate one serving of curry and coconut for lunch on day two, and save 3/4 cup of coconut brown rice for breakfast for day two. Freeze the rest of the curry and rice for future meals.
Prep: Make 1 3/4 cup dry rice and add an additional 1/2 cup of water when cooking the coconut rice.
Snack: Roasted Chickpeas
Notes: You can sub Italian Spice Mix for Za'atar.
Eat one 2/3 cup serving as your snack and place the rest in an airtight container for the snack on day three and dinner on day four.
Treat: Dark Chocolate
Note: Eat one ounce dark chocolate; aim for 55 percent cacao or higher!
Source: Pop Sugar