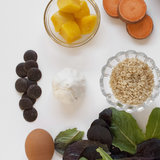 Breakfast: Avocado Toast With Fried Egg
Smashed Avocado Toast With Fried Egg
Ingredients
1 slice sprouted grain bread, toasted

1/4 of an avocado

Red pepper flakes

Salt and pepper to taste

1 egg

1/2 cup baby spinach

1 teaspoon olive oil
Directions
Mash and spread the avocado over the slice of toast.
Sprinkle red pepper over the top of the avocado.
In a small skillet, over medium-high heat, fry the egg in olive oil, until yolk is cooked to desired doneness, about 1-2 minutes. Add spinach to the skillet just before the egg is finished cooking and sauté until wilted, about 1 minute.
Top avocado toast with the egg and spinach. Add sea salt and more red pepper flakes to the top to taste.
Calories: 324.7
Protein: 12 g
Carbohydrate: 37.8 g
Dietary Fiber: 7.96 g
Total Sugars: 19.2 g
Total Fat: 15.5 g
Saturated Fat: 3.152 g
Information
Category

Breakfast/Brunch

Yield

Makes 1 serving
Lunch: Sweet Potato and Quinoa Salad
Dinner: Fried Rice
Note: Cook an additional 1/3 cup uncooked rice for Day 14 dinner.
Prep: Make your chia pudding for tomorrows breakfast so it will be ready when you wake up.
Snack: Walnut Cranberry Trail Mix
Note: Eat half of the mix for snack, and save the rest for your snack on Day 13.
Brownie Cake
Note: Eat one serving of the leftover brownie chocolate cake that you made on Day 8.
Source: Pop Sugar