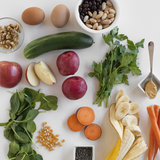 Breakfast: Maple Chia Pudding
Maple Chia Pudding With Walnuts and Bananas
Ingredients
3 tablespoons chia seeds

1 cup unsweetened vanilla almond milk

1 ½ teaspoon maple syrup

1/2 of a ripe banana (1/4 mashed and 1/4 sliced)

1 tablespoon chopped walnuts
Directions
Whisk chia seeds, vanilla almond milk, mashed banana, and 1 teaspoon maple syrup. Let the mixture sit, covered, in the fridge for at least 2 hours or overnight.
Before eating, stir well and top with 1 tablespoon chopped walnuts, the other 1/4 of the banana, sliced, and an additional 1/2 teaspoon of maple syrup.
Calories: 376.9
Protein: 11.8 g
Carbohydrate: 26 g
Dietary Fiber: 21 g
Total Sugars: 14 g
Total Fat: 23.6 g
Saturated Fat: 2.026 g
Information
Category

Breakfast/Brunch

Yield

Makes 1 serving
Lunch: Black and White Bean Soup With a Cucumber Salad
Note: Eat 1 1/2 servings of leftover soup from Day 9 along with cucumber salad.
Dinner: Roasted Veggie Frittata With Spinach Salad
Note: This recipe uses the roasted veggies made on Day 8.
Snack: Almond Butter Apple With Chia
Treat: Chocolate-Drizzled Popcorn
Source: Pop Sugar