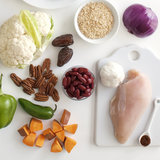 Breakfast: Hot Brown Rice Cereal With Pecans and Half a Pear
Note: This quick breakfast uses the leftover coconut brown rice from yesterday's dinner to provide a whole grain cereal base.
Hot Brown Rice & Toasted Pecan Cereal
Ingredients
3/4 cup cooked brown basmati coconut rice

1/2 cup warmed unsweetened almond milk

1/2 pear, sliced

2 tablespoons chopped pecans

Dash of powdered ginger
Directions
Place the brown rice in a bowl, and pour the warm milk over top.
Sprinkle on a dash of powdered ginger.
Layer on the sliced pear, follow by the chopped pecans.
Calories: 331.7
Protein: 6.33 grams
Carbohydrate: 53.1 grams
Dietary Fiber: 8.164 grams
Total Sugars: 11.1 grams
Total Fat: 14.2 grams
Saturated Fat: 1.1 grams
Information
Category

Breakfast/Brunch
Lunch: Chickpea Coconut Curry and Half a Pear
Note: Eat one serving of leftover chickpea coconut curry over one serving of coconut brown rice with the other half of the pear, sliced.
Dinner: Chicken Chili and Kale Cucumber Chopped Salad
Note: Eat 1/6 of the recipe with the side salad. Refrigerate 1/6 of the recipe for lunch on day three; freeze the remaining 2/3 of the recipe.
From Lizzie Fuhr, FitSugar
Spicy Chicken Chili
Ingredients
1 tablespoon canola oil

1 cup chopped red onion

1 cup chopped green pepper

2 cloves garlic, finely chopped

2 jalapeños, thinly sliced

1-1/2 pounds ground chicken

1/4 cup chili powder

2 cups canned crushed tomatoes

1 tablespoon chicken stock

1 tablespoon brown sugar

1 tablespoon apple cider vinegar

1 tablespoon hot sauce

1 tablespoon salt

2 cans dark red kidney beans, drained
To garnish: (optional)

Cilantro
Directions
In a large Dutch oven, heat canola oil over high heat. Add onion, pepper, jalapeños, and garlic. Cook over medium heat until the onion is tender (about five minutes.)
Add chicken – cook, stirring to break up lumps until the chicken loses its pink color (about five minutes). Stir in chili powder, and cook one minute.
Stir in tomatoes, broth, sugar, vinegar, hot sauce, and salt. Reduce heat to low; cover and simmer, stirring often until the chili is thickened (about 45 minutes.)
Stir in beans, cook until heated through, about 15 minutes. Uncover for the last 15 minutes of cooking.
Top with garnish of your choice, and enjoy!
Serves 7.
Information
Category

Main Dishes

Cuisine

North American
Kale Cucumber Chopped Salad
Ingredients
1 cup chopped kale

1/2 cup sliced cucumber

1/4 cup chopped celery

1/4 cup rinsed and drained canned white beans

1 teaspoon olive oil

2 teaspoons balsamic vinegar

Pinch of sea salt
Directions
Whisk together the oil, vinegar, and salt.
Drizzle over all the other ingredients, and toss to coat.
Calories: 163.5
Protein: 8.207 grams
Carbohydrate: 22.8 grams
Dietary Fiber: 5.38 grams
Total Sugars: 2.352 grams
Total Fat: 5.414 grams
Saturated Fat: .746 gram
Information
Category

Main Dishes
Snack: Banana Smoothie Muffin
Note: Eat one muffin left over from day one.
Treat: Pecan Stuffed Dates
Make a small slit, lengthwise, in both of the dates; insert 1 teaspoon chopped pecans into each date.
Calories: 159.1
Protein: 1.478 grams
Carbohydrate: 36.5 grams
Dietary Fiber: 3.484 grams
Total Sugars: 32 grams
Total Fat: 2.68 grams
Saturated Fat: .245 gram
Join our community and share pics of your meals on Instagram with the hashtag #PSCleanEats.
Source: Pop Sugar