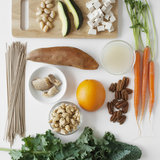 Breakfast: "Sweet Potato Pie" Smoothie
Note: This recipe uses one leftover potato from day three and leftover tofu from day four.
"Sweet Potato Pie" Smoothie
Ingredients
This breakfast smoothie is great for people who don't love bananas and for anyone who wants a balance of protein, high-fiber carbohydrates, and fat to start their day off right.
1 cooked sweet potato, peeled (if you have a high-powered blender, you can leave the skin on)

1 1/2 cups unsweetened almond milk

3 tablespoons chopped pecans

3 ounces soft tofu

1/8 teaspoon cinnamon

Handful of ice
Directions
Place all the ingredients in a blender, and blend on high until smooth.
Add a handful of ice, and blend again.
Calories: 341.9
Protein: 12.3 grams
Carbohydrate: 34.8 grams
Dietary Fiber: 10.1 grams
Total Sugars: 6.658 grams
Total Fat: 25.5 grams
Saturated Fat: 1.639 grams
Information
Category

Breakfast/Brunch

Yield

Makes 1 serving
Lunch: Avocado-Salmon Salad With Kale and White Beans
Dinner: Soba Noodle Soup
Note: This recipe makes two servings; save one for tomorrow's lunch.
Snack: Orange Slices With Cinnamon Peanut Butter
Treat: Navitas Naturals Maca Maple Cashews
Note: Eat one ounce of cashews. If you can't find this specific variety, or don't want this flavor, feel free to treat yourself with one ounce of raw or roasted cashews – just opt for unsalted.
Source: Pop Sugar