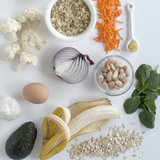 Breakfast: Peanut-Butter-Banana Overnight Oats
Peanut-Butter-Banana Overnight Oats
Notes
If you love chocolate, add 1-2 teaspoons cocoa/cacao powder when you add the peanut butter
Ingredients
3/4 cup unsweetened almond milk

1 very ripe banana

1 tablespoon peanut butter

1/3 cup rolled oats
Directions
Whisk together the milk, banana, and peanut butter.
Stir in the oats, cover, and refrigerate overnight.
In the morning, stir before serving. If you prefer a warm breakfast, you can heat your oats in the microwave for 30 seconds to take the chill out.
Calories: 323.9
Protein: 10.7 grams
Carbohydrate: 50.2 grams
Dietary Fiber: 8.555 grams
Total Sugars: 16.2 grams
Total Fat: 14.7 grams
Saturated Fat: 2.079 grams
Information
Category

Breakfast/Brunch

Yield

Makes 1 serving
Lunch: Cauliflower-Quinoa Frittata
Note: This recipe uses cauliflower prepped on day one and the rest of the quinoa from day three.
Dinner: Veggie Tacos
Snack: Banana Smoothie Muffin
Note: Eat one muffin baked on day one.
Treat: "Cheesy" Kale Chips
Source: Pop Sugar