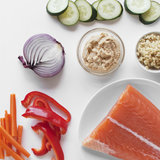 Breakfast: Cranberry Almond Breakfast Bar
Note: Eat one bar for breakfast; save one bar for breakfast on Day 12. Freeze the remaining bars.
Cranberry Almond Breakfast Bars
Ingredients
1 cup almond butter

1/4 cup honey

1 teaspoon vanilla extract

1/4 teaspoon cinnamon

3 cups old-fashioned rolled oats

1 cup sliced almonds

1/2 cup dried cranberries

3 tablespoons chia seeds
Directions
Preheat oven to 350ºF. Spray a 9-inch square pan with canola cooking spray.
Combine almond butter and honey in a heavy-bottomed sauce pan over medium-high flame. Whisk until melted – 3-5 minutes. If your almond butter is really thick, add a little water or canola oil to this mixture to thin it out.
Stir in vanilla and cinnamon.
Add in oats, almonds, cranberries, and chia seeds.
Bake for 15 minutes. Let cool completely and cut into nine equal squares.
Nutritonal Data
Calories: 397.4
Protein: 12.4 g
Carbohydrate: 37.5 g
Dietary Fiber: 9.054 g
Total Sugars: 13.7 g
Total Fat: 24 g
Saturated Fat: 1.995 g
Information
Category

Breakfast/Brunch

Cuisine

North American

Yield

9 bars
Lunch: Bean and Egg Burrito
Dinner: Quinoa, Maple Mustard Salmon, With Roasted Veggies
Note: You'll be making extra servings of all items in this dish. For dinner, eat 1.5 cups vegetables, 3/4 cup cooked quinoa, and 4 ounces salmon; then refrigerate the rest to be used throughout the week.
Snack: Hummus and Crudité
Note: Enjoy 1/4 cup hummus with one carrot, cut into sticks, and 1/2 cucumber, cut into slices.
Prep: Cut 1 additional carrot and the rest of the cucumber; store in an airtight container in the fridge.
Calories: 143.3
Protein: 4.076 g
Carbohydrate: 20.1 g
Dietary Fiber: 4.812 g
Total Sugars: 4.44 g
Total Fat: 5.461 g
Saturated Fat: .72 g
Treat: Chocolate Brownie Cake
Note: Eat one serving today, and save one serving for your treat on Day 10. Freeze the remaining servings, wrapped in plastic wrap, in individual servings so you grab one, and just one, for a sweet treat as needed after finishing the two-week plan.
Source: Pop Sugar