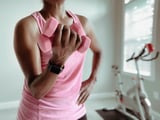 Since buying an at-home bike, I've found myself slacking on my arm-strengthening exercises. After 30 minutes of continuous pedaling, my legs are beat, and my sports bra is soaked – so it's pretty easy to just call it a day.
But strength training is what's going to help me build up and define my biceps and triceps, so adding an arms circuit to the end of my ride is on the agenda. For tips on what exercises to perform, I turned to Sarah Pelc Graca, the founder of Strong with Sarah, an NASM-certified personal trainer, and indoor cycling Instructor at Cyclebar.
Graca confirmed that strength training will not only help with muscle growth but it could help make the metabolism work more efficiently – as more muscle is linked to burning more calories.
For the workout ahead, you'll want to get off your bike, so Graca suggests choosing weights that challenge you but also allow you to perform the move safely and correctly. "If you find you're losing proper form, then switch over to a lighter set of weights," Graca says.
Since your body is already warmed up from the cycling workout, you can head right into the segment created by Graca ahead. Take up to one minute of rest between exercises, or as needed. When you are finished with the circuit, Graca recommends cooling down with static stretches.
"Depending on the muscles you work, stretch your shoulders and triceps, do a back stretch such as a Child's Pose, and you can also use a wall or doorway to do a chest stretch. Any sort of upper body static stretches are the safest to do."
Source: Pop Sugar