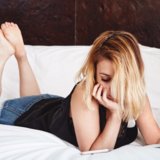 When there's such a delicious (and elaborate) meal on the table, it's easy to go overboard on Thanksgiving. Whether it's a salt binge, too many sweets, or a combination of the two, don't resign yourself to feeling uncomfortable all day long. These tips will help you feel better sooner.
Start chugging (water, that is): Be sure to hydrate before bed and have a full cup of water ready to drink as soon as you wake up. Former Canyon Ranch director and group fitness expert Aimee Nicotera also recommends drinking two to three liters of water throughout the day. It may feel counterintuitive to drink a lot of anything when you're feeling full, but you'll start feeling better immediately.
Freshen up: Aimee suggests starting out the morning with a hot shower, so there's no time to sit around and succumb to that "blah state." Taking the initiative ASAP will make everything else feel easier. Once you're all cleaned up, don't just reach for any old outfit; choose clothing that makes you feel confident and comfortable. "Feeling better mentally is an important part of feeling better physically," says Aimee.
Fill up with morning fiber: One of the worst things you can do after overindulging is skip out on breakfast the next day and mess with your metabolism. Instead, enjoy a filling breakfast like a cup of oatmeal or bowl of high-fiber cereal. A breakfast that's full of fiber will support healthy digestion and keep your stomach satisfied throughout the morning. This way, you won't be ravenous for a huge lunch or snack on whatever's in sight and stay stuck in the cycle.
Stretch and twist: According to yoga teacher Tara Stiles, it's plain and simple: "Twists just get things moving." After a big meal, get things moving with a fire-building yoga sequence full of twists that support digestion and release toxins. If you don't have time for a full sequence, take two minutes to move through a handful of yoga poses for digestion – especially that Reclining Twist!
Get in some cardio: Even if you're feeling bloated and sluggish, hitting up a quality cardio session to sweat things out is some of your best defense against the dreaded food hangover. Whether you head to your favorite cardio class or spend 30 minutes on the treadmill, you'll feel 10 times better after a little exercise.
Keep your meals clean: You don't have to go overboard with a liquid diet or crazy detox, but do your best to eat clean all day long. Reach for balanced, light meals full of fresh seasonal produce and whole grains. Steer clear of processed foods and too much sugar or salt – your body will thank you later.
Let it be: After you've had a fun night out, don't be unkind to yourself. There's no reason you shouldn't be able to enjoy a festive meal freely, so don't allow negative self-talk to take over. The best thing you can do is move forward with a positive attitude and happy memories of your fun.
Related: A Spicy Ginger Smoothie to Help You Detox
Source: Pop Sugar