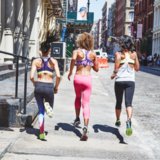 Was "getting in shape" one of your New Year's resolutions? If so, chances are you've already located your local gyms or boutique studios. However, many of these places can cost you a pretty penny, especially if you're into designer names like SoulCycle or Equinox.
Although it's nice to indulge in a luxury fitness class every so often, you can easily hit the gym without hitting your credit card, and we just so happen to have a little life hack for you – enter Eventbrite. We knew about the concerts and sporting events on offer, but with a quick city search, we discovered acrobatic yoga, Bollywood dance, and rowing classes in our neighborhood . . . all for the low, low price of $0. Give it a go: enter your city or zip, and filter by "Sports & Fitness" (under Category) and "Free" (under Price) in the left-hand menu. Added bonus: you don't have to be in a major metropolitan area – from yoga in Norcross, GA, to Zumba in Linden, NJ, there's something for everyone.
Pro tip: read the fine print and make sure it's free . . . we spotted a couple posts that may have been incorrectly tagged, but don't fret, there are a bevy of free options near you!
Source: Pop Sugar