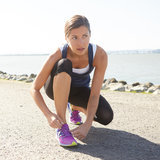 Recommit to your fitness life in 2016 and get ready to run a 5K this year. We've created a six-week plan to get you up and running – literally. If you have a casual relationship with running and can run comfortably for at least 10 minutes, our plan will help you go the distance and become a bona fide runner.
Check out the plan below, print it, then start training!
Extra Credit
Here are guides to help with your nonrunning training.
We're here to support your endeavors with running tips to help you love running and improve your form, playlists to keep you motivated and on pace, and advice on nutrition and recipes to support your goals.
Source: Pop Sugar