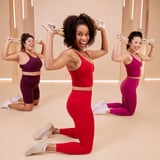 Get ready to work out with trainer Khetanya Henderson, who will be leading this 30-minute core-focused Pilates workout joined by Leilani Terris and Paulyn Baens. In this routine, you'll use a hand towel and a yoga mat to work through plank and crunch variations that get into every inch of your core – Henderson's signature twist on Pilates pulses and holds will wake up muscles you didn't know you had.
Henderson is a certified Pilates instructor, NASM-certified trainer, and former collegiate soccer player. In addition to teaching all kinds of fitness, she's also an actor and dancer, appearing in commercials and on stage with Cirque du Soleil.
Don't miss new episodes of Class Fitsugar every Sunday and Wednesday on the POPSUGAR Fitness YouTube channel.
Henderson's outfit: Lululemon // Shoes: APL
Terris's outfit: Lululemon // Shoes: APL
Baens's outfit: Girlfriend Collective // Shoes: APL
Source: Pop Sugar