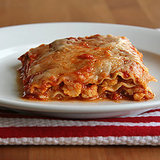 Heavy layers of meat and cup upon cup of cheese go into a classic lasagna. This version starring cauliflower is an absolutely guilt-free twist on tradition that packs just as much protein. The addition of cinnamon in this recipe brings an amazing depth of flavor, without any extra unhealthy ingredients – truly a testament to the power of spices!
Notes
Advance preparation: you can assemble this up to a day ahead and refrigerate or freeze for a month. The lasagna can be baked several hours ahead and reheated in the oven. My palate demanded a little kick, so I upped the red pepper flakes. If it's too much for you, 1/2 to 1 teaspoon of red pepper flakes will work just fine.
Ingredients
1 1/2 pounds cauliflower (3/4 of a medium head)

2 tablespoons extra-virgin olive oil, plus more for greasing

Salt and freshly ground pepper

2 teaspoons red pepper flakes

8 ounces ricotta cheese

2 tablespoons vegetable or chicken stock

Pinch of cinnamon

3 cups marinara sauce, preferably homemade with fresh or canned tomatoes

7 to 8 ounces no-boil lasagna

1 cup freshly grated parmesan
Directions
Preheat the oven to 450°F. Line a baking sheet with parchment paper.
Cut away the bottom of the cauliflower stem and trim off the leaves. Cut the cauliflower into slices 1/3 inch thick, letting the florets on the edges fall off.
Toss all of it, including the bits that have fallen away, with the olive oil and salt and pepper to taste. Place on the baking sheet in an even layer.
Roast for about 15 minutes, stirring and flipping over the big slices after 8 minutes, until the slices are tender when pierced with a paring knife and the small florets are nicely browned.
Remove from the oven, toss with the red pepper flakes, and set aside. Turn the oven down to 350°F.
Blend the ricotta cheese, stock, cinnamon, and salt and pepper to taste. Set aside.
Oil a rectangular baking dish and spread a spoonful of tomato sauce over the bottom. Top with a layer of lasagna noodles. Spoon a layer of the ricotta mixture over the noodles. Top with a layer of cauliflower and then a layer of tomato sauce and a layer of parmesan.
Repeat the layers, ending with a layer of noodles topped with tomato sauce and parmesan.
Cover the baking dish tightly with foil and place in the oven. Bake 40 minutes, until the noodles are tender and the mixture is bubbling. Uncover and, if you wish, bake another 10 minutes, until the top begins to brown. Remove from the heat and allow to sit for 5 minutes before serving.
Information
Category

Main Dishes

Cuisine

Italian

Yield

6 servings
Nutrition
Calories per serving

324
Source: Pop Sugar