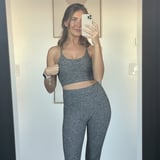 Image Source: Getty / Bauer Griffin
Like many young millennials and Gen-Z individuals, Hailey Bieber is my main source of style and beauty inspiration. Her relaxed, street style outfits and effortless makeup looks are everything I aim for (although it doesn't hit all the time). Between her glazed doughnut nails and glowing skin tips, the Rhode Skin founder knows how to start a trend (she even inspired me to go back to my natural hair color). So, when I was given the opportunity to try Tavi's Spacedye High Waisted Leggings ($90) that Bieber was captured wearing while heading to pilates in LA, I couldn't say no.
What I Like About Tavi's Spacedye High-Waisted Leggings
While these leggings may appear to be like any ordinary gray leggings on the market, I can assure you they're not like the rest. Made of Tavi's special Spacedye fabric treatment, these leggings are incredibly soft to the touch. Once you put them on, you'll feel like you have an extra buttery-soft layer of skin, and not only that, but they stay up while you work out. While I wouldn't necessarily recommend them for running or HIIT workouts, they're great for Pilates, barre, or a yoga class. The legging's high-waisted design stays put, and they even come with a built-in pocket along the waist to hold credit cards or a key while you're on the go. I love their seams, which are slightly offset on the waistband for a slimming effect. Overall these leggings are incredibly flattering – it makes sense why Bieber wore them to Pilates.
What's Worth Noting About Tavi's Spacedye High-Waisted Leggings
If you're looking for leggings to wear for high-intensity workouts like HIIT or cardio, you might not be satisfied. Spacedye's light gray fabric runs the risk of showing sweat and isn't quite sweat-wicking enough (although is still sweat-wicking) to keep you feeling dry throughout a heavy workout. Nevertheless, they're great for hot girl walks or lower-impact workouts, and their simple gray design matches almost anything.
Image Source: POPSUGAR Photography / Haley Lyndes
Who Are Tavi's Spacedye High-Waisted Leggings Best For?
If you're looking for a simple everyday legging that's velvety soft on the skin, flattering on the body, and an overall easy item to pair with any of your workout clothes, this legging is it. Its price point falls in line with competitors like Lululemon and Athleta, and its quality is a great comparison. As long as you don't wear them for a high-impact workout, this legging is a great pick for practically anyone.
Additional Details
Available in sizes XS through XL.
The legging has an internal pocket to keep cards secure.
It's made of a special Spacedye fabric treatment that makes it soft.
Rating
Source: Pop Sugar