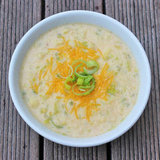 Cheddar soups are known for being creamy and rich but also come with a lot of calories and saturated fat. For a lighter twist on this favorite, try our simple-to-make cheddar-cauliflower soup. It's easy to throw together on a weeknight, and even better as healthy leftovers for lunch the next day.
Ingredients
2 tablespoons extra-virgin olive oil

2 large leeks, white and light green parts thinly sliced and rinsed

4 cups chopped cauliflower florets (from 1 medium head)

2 1/2 cups low-fat milk, divided

2 cups water

1 bay leaf

1 teaspoon salt

1/2 teaspoon white or black pepper

3 tablespoons all-purpose flour

1 1/2 cups shredded extra-sharp cheddar cheese

1 tablespoon lemon juice
Directions
Heat the oil in a large saucepan over medium heat. Add the leeks and stir until very soft, about five minutes.
Add cauliflower, two cups milk, water, bay leaf, and salt and pepper. Bring to a boil over medium-high heat, stirring often.
Reduce heat to a simmer, cover, and cook, stirring occasionally, until the cauliflower is soft, about eight minutes.
Meanwhile, whisk the remaining 1/2 cup milk and flour in a small bowl.
When the cauliflower is soft, remove the bay leaf and stir in the milk mixture. Cook over medium-high heat, stirring, until the soup has thickened slightly, about two minutes more.
Remove from the heat. Stir in cheese and lemon juice.
Serves six.
Source: Calorie Count
Information
Category

Soups/Stews, Cream
Source: Pop Sugar