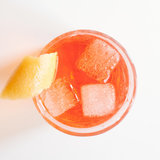 Before working in health and fitness, I spent a good part of my adult years working around food and alcohol. I was a server all through college. I would later spend a good chunk of my writing career as a food editor. While I (usually) have no qualms about exercising regularly, my love of cocktails is a persistent obstacle in losing those last stubborn pounds – an obstacle I'm unwilling to overcome. Thankfully, there's a new trend popping up at cocktail bars that also happens to be waist-friendly. More and more bartenders are mixing up cocktails made entirely of low-proof liquor like Sherry, Lillet, or vermouth. Not only do these cocktails help prevent next-day hangovers, but they are also by design lower in calories. If you can lower the alcohol content of a drink, you also lower the amount of calories it contains. Andrea Tateosian, a bartender with the Kimpton hotel group, says that these types of drinks are perfect for her more health-conscious customers, especially those who still want to enjoy a couple of drinks without getting completely wasted. These drinks tend to be lighter than an "in your face" whiskey or tequila drink, she says. "Maybe you don't need all the crazy things, all of the time."
An easy way to hop on this trend at home is by making a spritz, a simple recipe that pairs a low-proof alcohol with a little soda water (or sparkling wine) and citrus, my favorite being the refreshing and lightly bitter Aperol spritz. But if you're feeling more adventurous, start with Andrea's recipe, which uses a homemade thyme-lemon syrup and Cocchi Americano Rosa, a wine-based spirit. The result is a cocktail that has just a hint of sweetness to round out the more tart flavors of the Cocchi Americano Rosa.
Related: 5 Low-Calorie Drinks to Order at Happy Hour
Notes
To make the thyme-lemon syrup:
Bring 3 cups water to a boil, and add the zest of 1 lemon. Add a handful of thyme, and take the water off the heat, letting it steep for 10 minutes. Add 3 cups sugar, and stir until the sugar has dissolved. Strain into a glass jar. Store in the refrigerator for up to 6 months.
Ingredients
1 1/2 ounces Cocchi Americano Rosa

1/2 ounce thyme-lemon syrup

3 ounces soda water
Directions
Add Cocchi Americano Rosa and thyme-lemon syrup to glass; gently stir. Add ice and top with soda water. Garnish with lemon peel, and enjoy immediately.
Information
Category

Drinks, Cocktails

Yield

1 cocktail

Cook Time

5 minutes
Nutrition
Calories per serving

75
Source: Pop Sugar