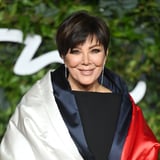 In Thursday's episode of "The Kardashians," Kris Jenner decides to consult an orthopedic surgeon after ongoing pain in her right hip. The pain is so disruptive that Jenner tells the doctor she "literally couldn't walk" without a cane the prior week, per People.
"The pain that I've been feeling seems to be getting in the way of my life and that is not something that I can really tolerate or have the patience for," she says, according to People. "I have this beautiful fabulous life and I have so many kids and grandkids that I want to share it with. All I wanna do is fix the problem and move on so I can live the best, longest life possible." Jenner adds she received a set of x-rays, as well as an MRI and a CT scan.
The doctor's news comes as a shock to the 66-year-old businesswoman: she needs hip replacement surgery. Also called total hip arthroplasty, hip replacement surgery involves removing damaged parts of the hip joint and replacing the damaged areas with a prosthetic joint (usually made of metal, ceramic, and/or very hard plastic) to help reduce pain and improve mobility, according to the Mayo Clinic. Usually, arthritis is the most common cause of hip replacement surgery, says the Mayo Clinic.
"Hearing the doctor say that I need a hip replacement is very scary for me," Jenner says. "It reminds me of somebody older than I feel on the inside and somebody who is going to have challenges for the rest of her life. This is serious." Later, when talking to daughters Kim and Khloé Kardashian, Jenner says, "It's the realization that I'm getting older . . . It messes with your head because I've always felt like I was 40 years old."
She starts getting more emotional as she goes on, eventually tearing up as she speaks. "You just realize you don't have that much more time. It's like suddenly, I can't do all the things . . . My hip goes out, my knee is torn. I have an eye infection, I can't see. I have the TV up too loud and Corey says I can't hear. It's like I feel like Humpty Dumpty," Jenner said.
Aging is certainly a difficult prospect, especially for someone like Jenner, who is not only a pillar of her family as a mother and grandmother, but also an entrepreneur and TV personality with a packed schedule. We wish Jenner a fast recovery.
Source: Pop Sugar