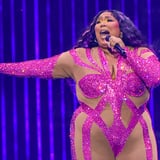 Musician Lizzo is once again putting fat-shamers in their place. While on stage during a performance in Toronto, she told the crowd, "I feel like everybody in America got my motherf*cking name in they motherf*cking mouth for no motherf*cking reason. I'm minding my fat, Black, beautiful business."
Lizzo's comments follow a bizarre interview between Kanye West and Fox News host Tucker Carlson. West took time in the interview to talk about the pop star, claiming the media promotes her "unhealthy" weight.
"Let's get aside from the fact whether it's fashion and vogue, which it's not, or if someone thinks it's attractive, to each his own, it's actually clinically unhealthy," West said to Tucker.
#Lizzo asks the crowd at #ScotiabankArena if she can stay in #Toronto 🥹🇨🇦 We say YES! 😭 #SpecialTour @lizzo @etalkCTV pic.twitter.com/QUb9SkjLxc

– MuchMusic (@Much) October 8, 2022
His comments came after a controversial few weeks, which included West's debut of "White Lives Matter" shirts during his surprise Paris Fashion Week show and a ban from Twitter.
For many, the comments are tiring, but not particularly new. Fat-shaming is often hiding behind a "concern" for someone's health, and the point isn't to support someone's health – it's to shame them into wanting to change their body and police their choices.
This isn't the first time Lizzo has used the stage to address inappropriate comments about her body – and her Canadian audience loved it. After saying, "I'm minding my fat, Black, beautiful business," the pop star joked about wanting to stay in Canada and later asked the crowd who she could marry for dual citizenship.
Source: Pop Sugar