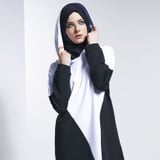 If you go to any activewear store, you'll notice a lot of the same stuff – skintight leggings, strappy sports bras (and bralettes), racerback tanks, and compression shorts. For some women, this is awesome: more ways to show off the body you've been working on!
But the truth of the matter is, not everyone wants to bare it all. Whether it's for religious or moral reasons, or you're just not comfortable in something so tight and revealing, it seems as though there are very few modest options in today's modern activewear lineup (some more hope, however, might be coming soon!).
To get some more perspective on this, I interviewed my fashionista friend Sabha, who happens to be Muslim, wears a hijab, and adheres to one of the most modest standards of dress. I typically see Sabha in a fabulous scarf (sparkles are common), ultrastylish boots, and, on special occasions, beautiful floor-length gowns with glittering long-sleeved tops underneath a strapless neckline. But I was dying to know – what does she wear to work out?
In addition to crafting sporty outfits with her own unique sense of style, she looks to Olympian and fellow hijabi, Ibtihaj Muhammad. Layering is key, and loose, lightweight silhouettes are a go-to.
She also reminded us that every woman who wears the hijab has her own guidelines for what she is comfortable with. "It's important not to judge or place standards onto any woman, because it can be a daily struggle for a lot of us, especially when you live somewhere that's never seen hijab before, or in a neighborhood that has preconceived notions of Muslims or Muslim women."
So if you've been struggling to find fashionable, modest athleisure or activewear, we've got some amazing suggestions for you, straight from a "hijabista."
Source: Pop Sugar