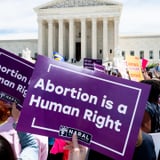 Image Source: Getty / Michael Brochstein
In an effort to fiercely protect abortion access nationwide, pro-choice advocacy and political organizations the Planned Parenthood Action Fund, NARAL Pro-Choice America, and EMILY's List have collectively pledged to spend $150 million on the 2022 midterm elections. The historic investment was proposed on May 2 to fight the recent unprecedented legislative attacks on reproductive rights and abortion rights in Republican-led states like Oklahoma, Arizona, and Texas. On Monday evening, just a few hours after the announcement, a SCOTUS draft opinion that would overturn Roe v. Wade was leaked, making this united effort more urgent than ever.
The three organizations are launching their own electoral programs to "ensure the election of reproductive freedom champions up and down the ballot" by mobilizing voters in battleground states like Georgia, Nevada, and Pennsylvania to reelect abortion rights advocates and retire those who threaten these rights, as well as contributing to relevant political campaigns. They are aiming to reach tens of millions of voters across the United States, particularly in swing states.
"People are watching. People are furious. And this November, the people will vote you out."
"We must center those for whom stakes are highest, including people of color who have been most harmed by abortion bans and this generation of young people that could experience a future without the freedom to decide their own path forward," said Alexis McGill Johnson, president of the Planned Parenthood Action Fund, in a statement. She continued: "Let this be a warning to the out-of-touch politicians standing in the way of our reproductive freedom: People are watching. People are furious. And this November, the people will vote you out."
Source: Pop Sugar