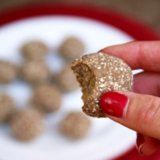 When you need a quick post-workout snack, something with protein and carbs, look no further. Made with only three ingredients you probably already have in your kitchen, these protein balls couldn't be easier to whip up. At 47 calories per ball, a three-piece serving is 141 calories and offers 8.1 grams of protein and 24 grams of carbs. Yet a serving is also low in sugar – just 5.1 grams.
Made with plant-based protein powder, they're vegan, and they can also be made gluten-free if you use gluten-free oats. If nuts are off limits, you'll be happy to know there are no almonds, peanuts, or the like. They're subtly sweet, oh so soft, and doughy, and because they're made with just a few simple ingredients, this snack is also gentle on the stomach.
Of course, feel free to jazz up this basic recipe by mixing in a little dried fruit, chopped almonds, or dark chocolate chips – if you do, just add a little extra banana to maintain the pliable consistency.
From Jenny Sugar, POPSUGAR Fitness
Vegan Banana-Oat Protein Balls
Ingredients
1 cup rolled oats

1 serving vegan vanilla protein powder

1 large banana
Directions
Pour rolled oats and protein powder into a food processor. Turn on for a minute until the oats are slightly chopped but not completely smooth.
Add the banana, and turn on until a coarse yet pliable dough forms.
Roll into 12 balls, and place in a reusable container.
Store leftovers in an airtight container in the fridge.
Below is the nutritional info for one protein ball.
Source: Calorie Count
Information
Category

Snacks

Yield

12 balls

Cook Time

20 min
Nutrition
Calories per serving

47
Source: Pop Sugar