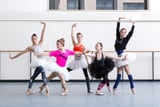 The prestigious New York City Ballet will be gearing up in Puma in an exciting partnership between the two announced on June 28. The sports brand is expanding beyond training into culture and arts, and NYCB dancers will soon be sporting official offstage activewear beginning in October 2016. It's amazing to see more dancers being recognized for their athletic abilities, like American Ballet's principal ballerina Misty Copeland. Their grueling schedules require just as much discipline and talent as other sports, making this a perfect relationship.
"We are proud to partner with such a prestigious and iconic institution as New York City Ballet. The company's elite roster of ballerinas displays the utmost discipline and skill, and truly represent the attributes of the PUMA Woman – brave, confident, determined and joyful," said Puma's Global Brand and Marketing Director Adam Petrick in a press release.
Not only will NYCB dancers be featured in the brand's campaigns, but Puma is looking for other ways to support the dance company, like through audience development and dancer health and wellness efforts. Look ahead to see what NYCB will be rocking in the studio and out – we're pretty jealous that we won't be able to get our own hands on this stuff.
Source: Pop Sugar