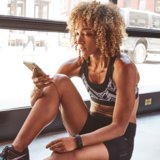 There's nothing better than a new playlist for a fierce cardio session. The snappy beats inspire – especially up huge hills or in the last five minutes of a workout. If you can't get your heart pumping without quality music, then check out our ultimate workout playlist that includes a whopping 100 songs. Take a look at the first 10 tracks below, and then be sure to subscribe to the playlist to enjoy the rest!
"Call on Me" – Eric Prydz
"Burn" – Ellie Goulding
"The Rockafeller Skank" – Fatboy Slim
"I Don't Like It, I Love It" – Flo Rida and Robin Thicke
"On to the Next One" – Jay Z
"Daft Punk Is Playing at My House" – LCD Soundsystem
"Cheers (Drink to That)" – Rihanna
"Dark Horse" – Katy Perry
"Don't Be So Hard on Yourself" – Jess Glynne
"Gonna Make You Sweat (Everybody Dance Now)" – C+C Music Factory
And remember: you will need to download the free Spotify software or app to listen to this playlist.
Source: Pop Sugar