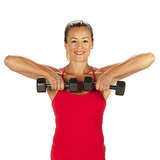 Everyone has their own reasons for wanting strong, defined arms; we're here to help. After following this 21-day arm plan, not only will your arms look toned – you'll also be stronger. First thing's first: don't worry if you've never lifted a dumbbell in your life. This arm challenge was designed with everyone in mind – whether it's your first time working out or you're at the gym on a daily basis.
Getting started: The challenge consists of five basic exercises that help to target all the areas of your arms. Over the course of the challenge, you will increase the number of reps you're doing of each exercise, eventually working up to three sets of 15 reps for each exercise.
Below is an explanation of how to do each of the five exercises, followed by the plan itself. Choosing the appropriate size weight is key here – you want one that fatigues your muscles by the end of the three sets. If the challenge ever feels too easy, that's your cue to increase the weight of the dumbbells (and if you find you are fatiguing too early, decrease the weight amount). Beginners should start the plan with five-pound weights, and for you more-experienced lifters, make this challenge work for you by grabbing a heavier set.
Source: Pop Sugar