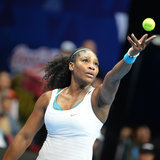 This year has been kind to Serena Williams. She was featured in the 2016 Pirelli calendar, became a guest editor at Wired, proved she was an actual superhero, and generally slayed on and off the court. So when Sports Illustrated named her as its sportsperson of the year, we can't say that we were surprised, though certainly pleased with the decision.
Williams's ability to overcome physical and mental adversity, in particular, makes her especially deserving of the title. In its accompanying article, Sports Illustrated outlined the many unseen health problems Williams faced while competing in 2015. The article reads:
"A cough and cold had her vomiting before and, for the first time, during a match: the Australian Open final, in January, which she won anyway. Bone bruises in both knees, the residue of 20 years of pounding, flared during the spring hardcourt swing and never subsided. Her focus frayed, her footwork suffering, she arrived at the French Open nursing a right elbow strain that would plague her unparalleled serve the rest of the year . . . But she refused to buckle."
Williams has also shown tremendous personal growth. Though known for her tough demeanor, she admitted to loosening up a little this year. Instead of firing back at line judges and the like, she explained how she's adopted a different approach to obstacles on the court. She said, "A few years ago I wouldn't have been able to laugh. I haven't lost that part of me; I'm very passionate on the court, but I've learned to be fierce more on the inside."
We can only imagine what the tennis powerhouse has in store for 2016.
Source: Pop Sugar