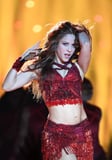 Between her new single "Shakira: BZRP Music Sessions #53″ and the "jam gate" alleged cheating scandal with Gerard Piqué, Shakira is probably all over your news feed. With the star top of mind, you may be wondering what kind of training she does to keep those "Hips Don't Lie" dance moves so on point.
In general, Shakira isn't shy about sharing her workouts, and neither is her longtime trainer, Anna Kaiser, NASM-certified personal trainer and CEO of Anna Kaiser Studios. The duo has been training together for more than a decade, including in preparation for Shakira's halftime performance with Jennifer Lopez at the 2020 Super Bowl. Back in 2018, POPSUGAR just spoke with Kaiser, who shared how she was training the Colombian singer and mom of two to prep for an international tour. At the time, they were "working on increasing her endurance and stamina because she's going to be on stage for two hours at a time, singing and dancing," Kaiser said. Around the same time, Kaiser also shared a butt workout on Instagram she was doing with the singer.
Now, Kaiser is opening up about Shakira's current fitness lineup. "She loves core work but knows she needs the cardio," Kaiser said in an interview with Shape.
Kaiser shared six Pilates-style core moves that she does with Shakira using a towel, a Pilates ball, and light weights, saying the sequence trains "every muscle in your core." It also works your body "as a unit, not a combination of parts," she says, which is important for building functional core strength. ICYMI, Pilates has been having a serious moment lately, so it's no surprise that Shakira and Kaiser are on board with the practice (along with plenty of other celebs).
Want to try all of Kaiser's go-to ab moves for yourself? Here are some of the exercises Kaiser recently shared with Shape, as well as some of the core exercises Shakira and Kaiser shared around the 2020 Super Bowl. Cherry-pick a few for your next ab workout, or try them all in a row (for example, doing each move for 30 seconds with 10 seconds of rest in between) for a circuit that's sure to burn.
-Additional reporting by Lauren Mazzo
Source: Pop Sugar