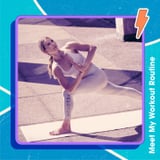 This is Meet My Workout Routine, where we profile weekly workout routines – unvarnished and imperfect – from women across all walks of life. Check out our past profiles here.
Kristin McGee
Peloton yoga instructor and mom to three sons
One week of workouts
New York City
January 2021
The Details
As a fitness instructor, it's no surprise that Kristin's week of workouts includes a lot of teaching and sometimes multiple workouts in a day! She said she sticks to a regular weekly routine of three to four yoga practices, two to four Pilates routines, two lower-body strength workouts, and one or two upper-body strength workouts. She also snuck in some extra cardio this week. "I teach for a living and I need to be on top of my game, but I've also realized that it's become such a lifestyle for me," Kristin told POPSUGAR. "I truly love to move my body, push myself, and learn more about myself."
Keep reading for an up-close-and-personal look at a week of Kristin's workouts.
Source: Pop Sugar