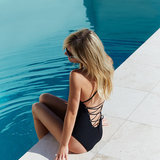 While public swimming pools haven't always been regarded as shining beacons of immaculate sanitation, a recent study from the Center For Disease Control and Prevention finds that they may be worse off than we thought.
The CDC recently published a report that looked at public swimming facilities in Arizona, California, Florida, New York, and Texas in an attempt to assess pool-related disease outbreaks and other injuries. The findings were pretty dismal: about 80 percent of the pools they looked at violated proper inspection requirements, and some of them were so egregious they were forced to immediately close until further notice.
Some of the violations included faulty fences and gates to prevent younger children from falling in deeper pools, however, some of the more alarming violations included improper pH and disinfectant levels that are meant to stop the spread of diseases relating to fecal matter and parasites. This proved to be a particular problem in smaller children's pools that didn't have the correct levels to maintain sanitation, especially considering that little ones don't always have their bathroom skills down.
We're hoping that this semi-alarming report will call for some drastic improvements so that everyone can continue enjoying this summertime activity and fitness staple.
Source: Pop Sugar