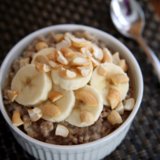 If you want a heartier – and healthier – bowl of oatmeal, choose less-processed steel-cut oats. The only issue is that they take much longer to cook – at least 40 minutes. Making a big batch to freeze is a great option, but if you didn't have time to do that over the weekend, this is the quickest, easiest way to wake up to a warm, comforting bowl.
All you need is a slow cooker and a good night's sleep. Just pop a few ingredients in, turn it on before bedtime, and the cinnamony smell will lure you out of bed into your kitchen. This is a pretty basic recipe, so you can dress it up however you like. Below, you'll find nutritional info for a few flavor combinations, but feel free to get creative. This recipe makes four servings, so if you don't have anyone to share it with, just save the rest in the fridge. Then in the morning, with a few beeps of the microwave, you'll have breakfast waiting for three more days that week.
From Jenny Sugar, POPSUGAR
Slow-Cooker Steel-Cut Oatmeal
Notes
To increase the protein, replace almond milk with unsweetened soy milk. Note that this oatmeal is very soft and liquidy when it first comes out of the slow cooker, but after 20 minutes or so, it firms up as it cools.
Ingredients
1 cup steel-cut oats (do not use rolled oats or quick oats)

1 tablespoon flaxmeal

2 cups water

2 cups unsweetened vanilla almond milk

1/4 teaspoon sea salt

1 1/2 teaspoons cinnamon
Directions
Give the slow cooker a quick spray with cooking oil to prevent sticking.
Add all the ingredients, and secure the lid.
Cook on low for eight hours or overnight.
In the morning, scoop out one quarter of the oatmeal, and add your favorite toppings.
Leftovers can be stored in the fridge and reheated throughout the week in a microwave-safe bowl.
Image Source: Calorie Count
Below are the calorie counts of some of my favorite flavor combinations.
Banana Cashew Oatmeal
Total: 354 calories, 8.5 grams fiber, 9 grams protein
Blueberry Mango Oatmeal
Total: 318 calories, 8.5 grams fiber, 9.2 grams protein
Apple Date Pecan Oatmeal
Total: 367 calories, 10.4 grams fiber, 7.7 grams protein
Coconut Almond Chocolate Oatmeal
Total: 357 calories, 8.9 grams fiber, 9.5 grams protein
Information
Category

Breakfast/Brunch

Cuisine

North American

Yield

4 servings

Cook Time

8 hours
Nutrition
Calories per serving

176
Source: Pop Sugar