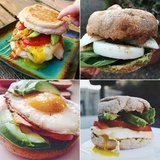 As delicious as some of the McDonald's breakfast staples look, the amount of calories and the unsettling feeling that follows eating them simply aren't worth it. But what if you can indulge in a morning sandwich that's packed with protein, healthy carbs, and fiber without the guilt? Introducing, the Egg McFitFun – a healthier, cleaner alternative to the famous Egg McMuffin.
It all starts with tomato slices, avocado, and eggs, sandwiched between two halves of a whole wheat English muffin. The great thing about this item, which originated from the Fit Girls 28-day Jumpstart Challenge, is that the possibilities are endless. Add slices of low-sodium turkey bacon for a bit of protein, or forgo any meat for some greens. It only takes minutes to whip up, so it's no wonder that this healthy option is becoming a favorite among fitness lovers.
To spark some inspiration before you decide on how you'll customize your own, we've rounded up 10 of the best #EggMcFitFuns on Instagram. You'll never have to give into your McDonald's breakfast temptations again.
Source: Pop Sugar