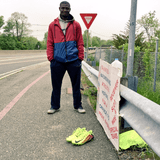 Abiola Aborishade just wants chance to tryout for @Patriots! If his heart is any indication of ability, he's gold. pic.twitter.com/w0dqc8rnYc

– susantran (@susantran) May 24, 2016
Just like any high-profile career, getting a job in the NFL is hard work . . . and one football player in Massachusetts is willing to go above and beyond for a chance to play professionally. Abiola Aborishade, 23, who holds the single-season catch record for the University of Massachusetts Dartmouth football team, has stood outside of the New England Patriots stadium since April 21 in hopes of landing a tryout.
Abiola Aborishade has stood outside Gillette Stadium since Apr 21.

Hopes for a tryout w/ the Patriots.#LetABISpin pic.twitter.com/M6FyqQHFhE

– A2D Radio (@a2dradio_com) May 24, 2016
Complete with a sign that lists his football skills and his ultimate goal – "hoping for a chance to prove myself" – the Nigerian-born athlete stands at the entrance to Gillette Stadium for upward of seven hours per day, hoping to earn attention from the Patriots coaches and players who could give him a shot. "I'm out here trying to get a tryout," Aborishade told local news about his plight. "It's like another job . . . I'm hoping that at some point they drive by and say 'OK, we want to see what you can do.'"
It seems that Aborishade has captured the attention of at least one Patriot, because cornerback Malcolm Butler recently posted his photo on Facebook applauding his dedication and passion for the game.
All that's left for Aborishade is a chance to prove himself; hopefully the Patriots get wind of this inspiring gesture and give the man a tryout!
Source: Pop Sugar