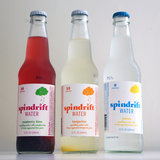 Whether you've swapped your daily soda habit for sparkling water or like to drink the bubbly stuff because plain H2O can be boring, you might be wondering if you're still getting the same hydrating benefits of drinking still water.
Although sparkling water contains carbon dioxide (which can be acidic), it will cause your teeth to rot away. In fact, a study showed that the damage is so minimal that one would have to drink massive amounts of sparkling water in order to wear away enamel faster than it's renewed. Sodas, on the other hand, contain phosphoric acid, which dissolves the calcium in tooth enamel and weakens teeth.
You may have also heard that carbonated water can leach calcium out of your bones and lead to osteoporosis, but no studies have been found to back this up. Actually, drinking sparkling water may even keep calcium locked in your bones.
One thing you should be cautious of is flavored sparkling waters. While some varieties are enhanced with natural fruit juices, others contain sugar or artificial sweeteners that could lead to unnecessary calories. Some fizzy mineral water or club soda also contains high amounts of sodium, which can contribute to high blood pressure. Be sure to look for low-sodium options, and make your own flavored soda water at home with these detoxifying ingredient add-ins. Lastly, opting for the bubbly may lead to bloating or gas – not ideal before a workout.
– Additional reporting by Michele Foley
Source: Pop Sugar