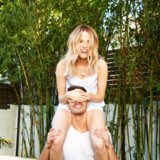 Are you planning some dates this Summer? Here's a challenge for you – try our Summer Fitness Date Bucket List, with 12 fun, fit activities to try with your date. You'll be feeling better than ever, and you'll have a partner to hold you accountable. Plus, these dates will be so fun, you might forget you're exercising (and you'll be making really awesome memories together).
Learn to surf together. Being out in the ocean will turn up the adrenaline (and be super fun!).
Map a new running route and go for a running date on the boardwalk or through some trails.
Try AcroYoga for some partner work and trust building.
Try a hike neither of you has been to before, whether it's in your neighborhood or a road-trip away.
Go for a night swim (because why not?!).
Rent kayaks (or a tandem kayak), pack a picnic, and kayak to a park or beach for lunch.
Go for a bike ride through your city or a new one! If you're in San Francisco, we suggest biking across the Golden Gate Bridge to Sausalito for lunch (and mayyyybe some wine).
Take a dancing lesson together, like tango or salsa!
Plan a camping or backpacking trip.
Going on vacation? Go snorkeling or scuba diving, just the two of you.
Sign up for a race together, like a 5K or a half-marathon. You can schedule couples massages after.
Keep it low-key for a night. Try an at-home workout in the living room, and make a healthy dinner together.
Source: Pop Sugar