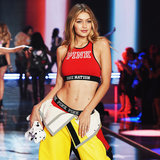 Gigi Hadid was surprised to learn that she made the cut for this year's Victoria's Secret Fashion Show, but one peek into her life via Instagram and it's clear that she's been training hard for the gig. Check out how the supermodel and It girl has been getting ready for her Victoria's Secret debut.
In the ring: Gigi has publicly shared her love of boxing many times, even taking Vogue to her gym to show us how she trains. Her workout isn't for the weak: Gigi, a former volleyball player, burns calories and sculpts major abs with some serious sparring moves (check them out below!). Gigi's trainer, Joe Piela, described her total-body workout: "We start with jump rope – there's no better way to slim down legs – and we end with ballet-inspired floor exercises. . . . In the middle, we box."
Two-a-days: The model has been putting in major studio time at both Gotham Gym and Ballet Beautiful, a ballet-inspired fitness program that helped Natalie Portman prepare for her role in Black Swan. Gigi captioned this Instagram, "Mornings with @balletbeautiful, nights with @gothamgym."
Eating smart: Gigi, a self-described burger lover, said she knows how to change her diet when she needs to. "I can eat healthy when I want to and I can work out every single day and I can have the body for a certain runway show if I need to, but that doesn't mean that I'm doing it in an unhealthy way," she told Daily Mail Australia. How does she do it? "The biggest thing I always say is eat clean to stay fit, and then have a cheat day to stay sane," she said.
Related: A Rundown of How Gigi Hadid Stays in Top Model Shape
Source: Pop Sugar