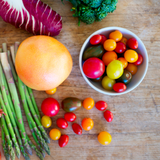 Mediterranean diets have long been lauded for their balanced nutrients and even weight-loss benefits. A new study suggests another encouraging attribute of the diet: preventing breast cancer from returning. After three years of research, a group of doctors in Italy discovered that women with breast cancer who ate a Mediterranean diet did not see their cancer return.
The study tracked 307 women who were treated for breast cancer and separated the patients into two groups: 199 women who ate Mediterranean diets and 108 women who were asked to follow their typical diet. Those assigned the Mediterranean diet were given a meal plan rich in fruits and vegetables:
Four portions of vegetables a day
Three pieces of fruit a day
One serving of grain a day
Four servings of fish a week
Two servings of red or processed meat a week
Permitted one alcoholic drink a day
Surprisingly, none of the 199 women who ate the prescribed diet saw their breast cancer return, while 11 of the women who kept their normal diet suffered a relapse. When this particular study was presented to the American Society of Clinical Oncology, doctors were encouraged but also wary of its potential shortcomings.
Experts in breast cancer shared with the Guardian their hesitation to give too much validation to this study before more research is done. One of the issues experts pointed to was the short time in which patients were evaluated – in order for the results to be corroborated more accurately, the women should be monitored for longer than three years. Additionally, experts emphasized that current research identifies physical activity as the main factor in preventing breast cancer's return. While the claim that a Mediterranean diet is just as beneficial for women in remission requires more research and substantiation, it is certainly a positive discovery.
Source: Pop Sugar