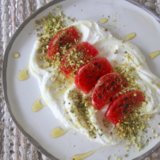 We're always on the lookout for a great Winter fruit dessert that is light yet indulgent. After a luncheon with Real Girl's Kitchen's Haylie Duff, where every course included grapefruit, we couldn't stop thinking about the grapefruit brulée and sweet ricotta dessert she created. Haylie said she definitely loves to have dessert but wanted to create something that didn't feel too heavy, which is how she came up with the brulée that only adds a hint of sweetness. The caramelized sugar on the grapefruit balances the tart flavor, and it all blends nicely with the creamy base. And the best part is that the recipe is super simple.
Haylie Duff, Real Girl's Kitchen
Grapefruit Brulée and Sweet Ricotta
Notes
If your grocery store doesn't have mascarpone cheese, softened cream cheese makes a fine substitute.
Ingredients
Ricotta cream

1/2 cup low-fat ricotta

1/3 cup mascarpone cheese

1 teaspoon powdered sugar

1 teaspoon vanilla extract

1/2 tablespoon lemon juice

Pinch of lemon zest

Pinch of sea salt
Grapefruit brulée

1 Sweet Scarletts grapefruit, sectioned

1 tablespoon brown sugar

1/4 cup pistachios, shelled

Honey
Directions
Combine ricotta cream ingredients in a small bowl and chill for 30 minutes.
Using a food processor, pulverize shelled pistachios.
Using a broiler, melt the brown sugar across the grapefruit wedges.
Arrange sweet cream on a plate and top with grapefruit wedges and pistachio dust.
Drizzle lightly with honey.
Information
Category

Desserts

Yield

2 servings

Cook Time

45 minutes
Nutrition
Calories per serving

252
Source: Pop Sugar