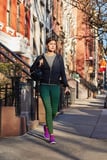 For the times when you don't need a hyperintense workout playlist full of eardrum-crushing EDM beats, we've got you covered. For a LISS day of hiking or walking, cycling through the park, or even taking it a little slower on the treadmill or elliptical, give this mixtape a listen.
The band: Scavenger Hunt. You may have heard their song "Lost" on our Winter Workout Playlist [editor's note: one of my favorite songs]. This time, they've covered "jock jams" from the '80s and '90s – think Ace of Base, Prince, Madonna, Mariah Carey, and Michael Jackson hits with a modern twist. This playlist effortlessly bridges the gap between old and new with a stylish, sophisticated flair (meaning, this music works for both me AND my mom). And with a runtime of 35 minutes, you've got enough to cover a quick workout without having to fiddle with your phone.
Download the SoundCloud mobile app to listen on the go!
Source: Pop Sugar