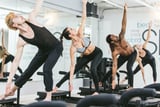 Unfortunately, the fit brunette with visible ab muscles and a flat stomach in the photo is not me. She's likely an instructor or top student at SLT, an NYC-based boutique fitness studio featuring exercises done on Pilates reformer machines. That said, joining this core-strengthening cult made me a hell of a lot more confident about my own midsection.
Honestly, my stomach has always been a sensitive topic for me – it's where I gain weight first and lose it last. I've never had a flat tummy (and likely never will, because my shape is a bit more apple), but I still work at getting it to be as toned as possible. Last November, I challenged myself to take about three months' worth of SLT classes. Though I could only do about one to two classes per week since I was still building up my strength, there was a noticeable difference in my shape when I had to wear a bathing suit for a vacation in Florida. And I am proud to say it was the first time I ever shared a photo of myself in a bikini (sans a cover-up top) on Instagram.
As a dancer who still practices and loves Pilates, yoga, and barre, finding workouts that challenge my core are few and far between. SLT actually kicks my ass. Every. Time. The class is a mix of Pilates and barre, all done on a reformer machine called a Megaformer. "If cardio, strength training, and Pilates had a baby, it would be SLT. It's a total-body, 50-minute workout offering a heart-pumping, muscle-quivering experience," said SLT's CEO Amanda Freeman. "Often described as 'Pilates on steroids,' the workout is performed slowly to activate the slow-twitch muscle fibers, leading to the long, lean, toned results. Muscles are worked to fatigue, forcing them to grow while increasing your rate of fat and calorie burning (up to 600 per session)."
It's really as difficult as it sounds – in the best way possible! After doing just one class, my stomach felt significantly tighter, love handles smoother, and legs leaner. Yes, I was very sore (walking up the stairs was painful), but over time, my body got used to it and that went away. The benefits were that I learned better workout habits (like slowing down!), got much more toned, and overall felt better about my figure.
If you're thinking about trying this workout or a similar one on a Pilates reformer machine, then keep reading to discover what I learned while consistently taking this class.
Source: Pop Sugar